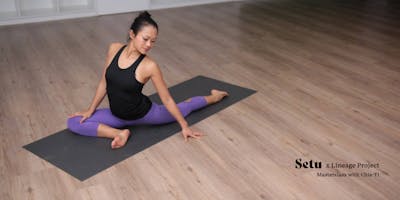 Lineage Project trauma-conscious practice with Chia-Ti Chiu
About Setu masterclasses
This year Setu is looking closely at how teachers create space for their students show up as their whole selves in class. We are hosting a series of masterclasses that invite you to experience a themed class followed by conversation around how the teacher created that particular environment. A selection of teachers and organizations in New York, who specialize in yoga for trauma, veterans, fluid identities, larger bodies, cultural heritage and community building are partnering with us. Our goal is to give people tools and the understanding to empathetically support people from various life experiences in the yoga setting.
About this masterclass
Setu and Lineage Project are pleased to offer a master class in Trauma Conscious Teaching for yoga teachers and the general public.  In standard 200-hour teacher training, there is little to no mention of trauma conscious teaching. This is a disservice to any community we serve, as most everyone has experienced some kind of trauma. We can only best show up for our students if we are aware of how our instruction or class container affects overall safety and trust. In this session, you will have a chance to experience a Lineage Project style sample class in order to gain an embodied sense of trauma conscious teaching.  After the class, we will discuss best practices in bringing trauma conscious elements into your classes. There will be time for a brief Q & A at the end of the session. The total time for this session is one hour. This class will be offered by Chia-Ti Chiu, a senior teacher and trainer with Lineage Project.
Event Schedule
2:45 – 3:00pm Check-in
3:00 – 3:15pm Welcome from Libby
3:15 – 4:15pm Chia-Ti's class
4:15 – 4:20pm Mini break
4:20 – 4:50pm Guided conversation with Chia-Ti and Libby
4:50 – 5:00pm Chill and chat
About Chia-Ti Chiu
Chia-Ti has been teaching yoga in NYC and internationally for over 16 years. She teaches elders, adults and incarcerated youth. Chia-Ti leads trainings focused on the intersection of mindfulness, social justice, trauma and resiliency. She developed and runs a community arts program and school fund at Hopital Adventiste d'Haiti in Port-au-Prince, after doing earthquake relief work in 2010. Chia-Ti believes strongly in the power of healing and growth through self-care and co-care practices.
About Lineage Project
Lineage Project teaches mindfulness practices to young people navigating incarceration, homelessness, school suspension, and academic challenges. We also train organizations in the development of mindful and trauma-conscious cultures and practices.