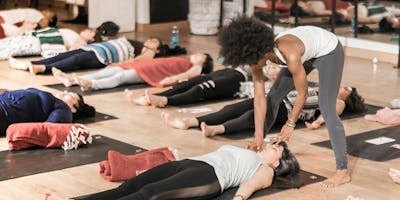 Listen : Be Heard
Join us for an evening dedicated to community among yoga teachers – connect with others and recharge your energy.
Our theme 'Listen : Be Heard' will guide us through the evening. Emily Hyland will start our evening by leading a gentle yoga practice to open our bodies and refresh our energy. Emily Hyland is a vinyasa, yin, and restorative yoga teacher; she is highly interested in the therapeutic and contemplative aspects of the practice and especially enjoys working with those who seek to integrate breath into mindful, everyday living. Her practice and teaching have evolved predominantly into the yin realm wherein time is granted to be on the floor, deeply in the body, patiently sitting with the self. 
Following this practice, we'll move into a group conversation led by Libby Nicholaou. We'll enjoy wellness goodies from Candid Tea and Live Love Pop – and you'll leave with something lovely from Mother Dirt. 
This event is open to all who have 200+ hours of yoga teacher training. You don't have to be actively teaching to attend. Mats, water and refreshments are provided, all you need is comfy clothes.
Big thanks to HUB seventeen for hosting us and to Candid Tea, Live Love Pop, and Mother Dirt for the wellness goodies.
Setu members get $10 off their ticket – message libby@setu.yoga for discount code.