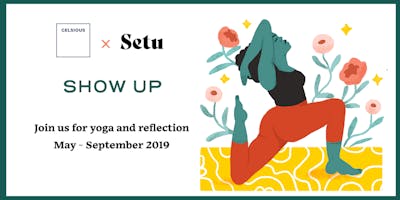 Show Up [for Abundance ]
Cultivating joy and abundance can often seem out of reach. Sometimes we feel like we are giving more than we are receiving and are left feeling depleted and unsatisfied. We all deserve joy and abundance, so how do we let it in? What's getting in the way?
As a part of Setu's Show Up series, Monica Pirani will guide you through a beautiful practice of long-held, deeply relaxing and supported poses that open the energetic pathways of the body to explore and strengthen our relationship to abundance.
With the power of light movement, meditation, gentle breath awareness and journaling we'll each define what abundance means for us, work to understand what's getting in the way, and find pathways that lead us to cultivate it.
Complimentary refreshments will be provided by Ojas Studio and Drink Fresh Juice.
About Monica
Monica is a yoga and meditation teacher, LGBTQ+ advocate and creative based in Brooklyn. She is best known for her personalized approach to teaching and her commitment to fostering community. Her classes are a breath of fresh air in a busy city, offering a grounding and centering experience that stays with you on and off the mat. Monica trained and continues her studies with Yogi Charu of Savitri Yoga Shal and Pure Yoga.
Event Schedule
6:15 – 6:30pm Attendee check-in
6:30 – 6:35pm Welcome from Libby and intro to guest teacher
6:35 – 7:20pm Practice
7:20 – 7:30pm Introduce and begin journaling
7:30 – 7:45pm Partner sharing
7:45 – 7:55pm Group sharing
7:55pm Closing
Show Up is a series of restorative evenings dedicated to connecting with ourselves in the present moment in support of our personal and collective well being. These events are a collaboration between Setu, Celsious and five yoga teachers. Each evening a guest yoga teacher will lead a gentle asana or meditation practice, followed by journaling and conversation all centered on a theme that the teacher's work is dedicated to. Our intention is to provide the space to explore deeper aspects of the self as a community. We invite you to attend all five as a way to be whole or pick and choose the ones that speak to you.
About our partner Celsious
Modern, sustainable and luxurious: Celsious offers a fresh and new way to "come clean" in a beautifully designed environment. Celsious was founded by Theresa and Corinna Williams. The sisters were born and raised in Germany. Their professional expertise in fashion and design, their love of the environment, and their obsession with all things clean compelled them to open the most energy efficient – and certainly the chicest – laundromat in New York. With the hands-on education and support of laundry visionary Lisa White of Absolute Laundry Systems, who has dedicated her professional career to pioneering a new breed of concept laundromat, they were able to bring their vision to life.