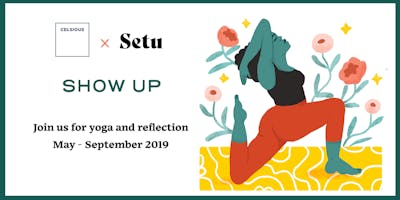 Show Up [for Self-Care]
When you hear the word "balance", what comes to mind? In the city that never sleeps, what are your methods of self-care? Do your methods of taking care of you actually align with finding balance or do you still reside in a perpetual state of imbalance?
As part of Setu's "Show Up" series, Matty Espino will take an introspective look at our methods of self-care and actuating balance for the hustle and bustle that is the standard for most of us here in the City. Drawing from what he deems "casual Ayurveda", he will lead you in an Ayurvedic yoga practice geared towards cooling down off the heels of a hot summer season. Post-practice, you will reflect through discussion of daily habits, critical dialogue about what balance means personally, and journaling. Best of all, Matty will introduce tangible methods for daily self-care under the Ayurvedic lens.
You will leave with an introduction into Ayurvedic philosophy, a new way to look at and apply "balance" in your life, greater understanding of how "self-care" is intuitive and necessary, as well as practical tips and tricks to bring seasonal wellness to your everyday life (i.e. think essential oils, exercise, diet, and hygiene techniques).
Show Up is a series of restorative evenings dedicated to connecting with ourselves in the present moment in support of our personal and collective well being. These events are a collaboration between Setu, Celsious and five yoga teachers. Each evening a guest yoga teacher will lead a gentle asana or meditation practice, followed by journaling and conversation all centered on a theme that the teacher's work is dedicated to. Our intention is to provide the space to explore deeper aspects of the self as a community. We invite you to attend all five as a way to be whole or pick and choose the ones that speak to you.
About Matty Espino
Matty is a 600+ hr certified yoga instructor with specialties in vinyasa, Lotus Flow™, chakras-based yoga, Ayurveda, and restorative Yoga. Additionally, he also holds certifications in Kids & Teens Yoga and Trauma-Informed Yoga. One can expect carefully crafted experiences that are challenging and playful, while still supportive of all levels. With compassion and a bright smile, he strives for his students to feel comfortable, confident, and to feel no judgment to move like them.
Event Schedule
6:15 – 6:30pm Attendee check-in
6:30 – 6:35pm Welcome from Libby and intro to Matty
6:35 – 7:20pm Practice Yoga
7:20 – 7:30pm Reflection/Journaling
7:30 – 7:55pm Conversation
7:55pm Closing
About our partner Celsious
Modern, sustainable and luxurious: Celsious offers a fresh and new way to "come clean" in a beautifully designed environment. Celsious was founded by Theresa and Corinna Williams. The sisters were born and raised in Germany. Their professional expertise in fashion and design, their love of the environment, and their obsession with all things clean compelled them to open the most energy efficient – and certainly the chicest – laundromat in New York. With the hands-on education and support of laundry visionary Lisa White of Absolute Laundry Systems, who has dedicated her professional career to pioneering a new breed of concept laundromat, they were able to bring their vision to life.