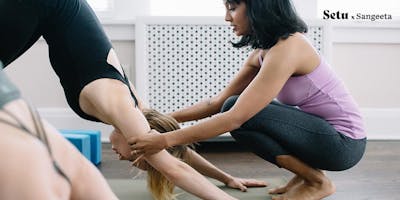 Trauma Informed Practice: a masterclass with Sangeeta Vallabhan
This year Setu is looking closely at how teachers create space for their students show up as their whole selves in class.  We hosting a series of masterclasses that invite people to experience a themed class followed by conversation around how the teacher created that particular environment. A selection of teachers and organizations in New York, who specialize in yoga for trauma, veterans, fluid identities, larger bodies, cultural heritage and community building are partnering with us. Our goal is to give people tools and the understanding to empathetically support people from various life experiences in the yoga setting.
About this masterclass
In this practice, we'll explore the offering of trauma informed yoga. Trauma and PTSD are big umbrella terms that cover a variety of experiences. Ranging from the effects of varying socioeconomic and life circumstances to small or bigger catastrophic events. Everyone has different ways of dealing with trauma. Some people can cope more easily and function at a relatively high level; they can live day to day without too much interference from their traumatic experience(s). And yet others may be more impacted and more debilitated, and the effects could last for long periods of time. Maybe even years. Yoga can play a big role in someone's journey of healing. Different yogic practices can help someone dissolve tension, feel less stiff, and feel more present in their body and mind.

About the masterclass teacher
Sangeeta Vallabhan has been teaching yoga in NYC for over fourteen years. She teaches vinyasa classes that are challenging, grounding and empowering; she encourages students to continually seek out their own voice & sense of self. She has completed over 1200 hours of training; her most notable teachers are Sharon Gannon, David Life, Gurmukh and Schuyler Grant.
Event Schedule
2:45 – 3:00pm Check-in
3:00 – 3:15pm Welcome from Libby
3:15 – 4:15pm Sangeeta teachers class
4:15 – 4:20pm Mini break
4:20 – 4:50pm Guided conversation by Sangeeta and Libby
4:50 – 5:00pm Chill and chat
*Mats and props are provided.
Special thanks to our sponsors
Drinks provided by Drink Fresh Juice 
Eats provided by Ojas Studio